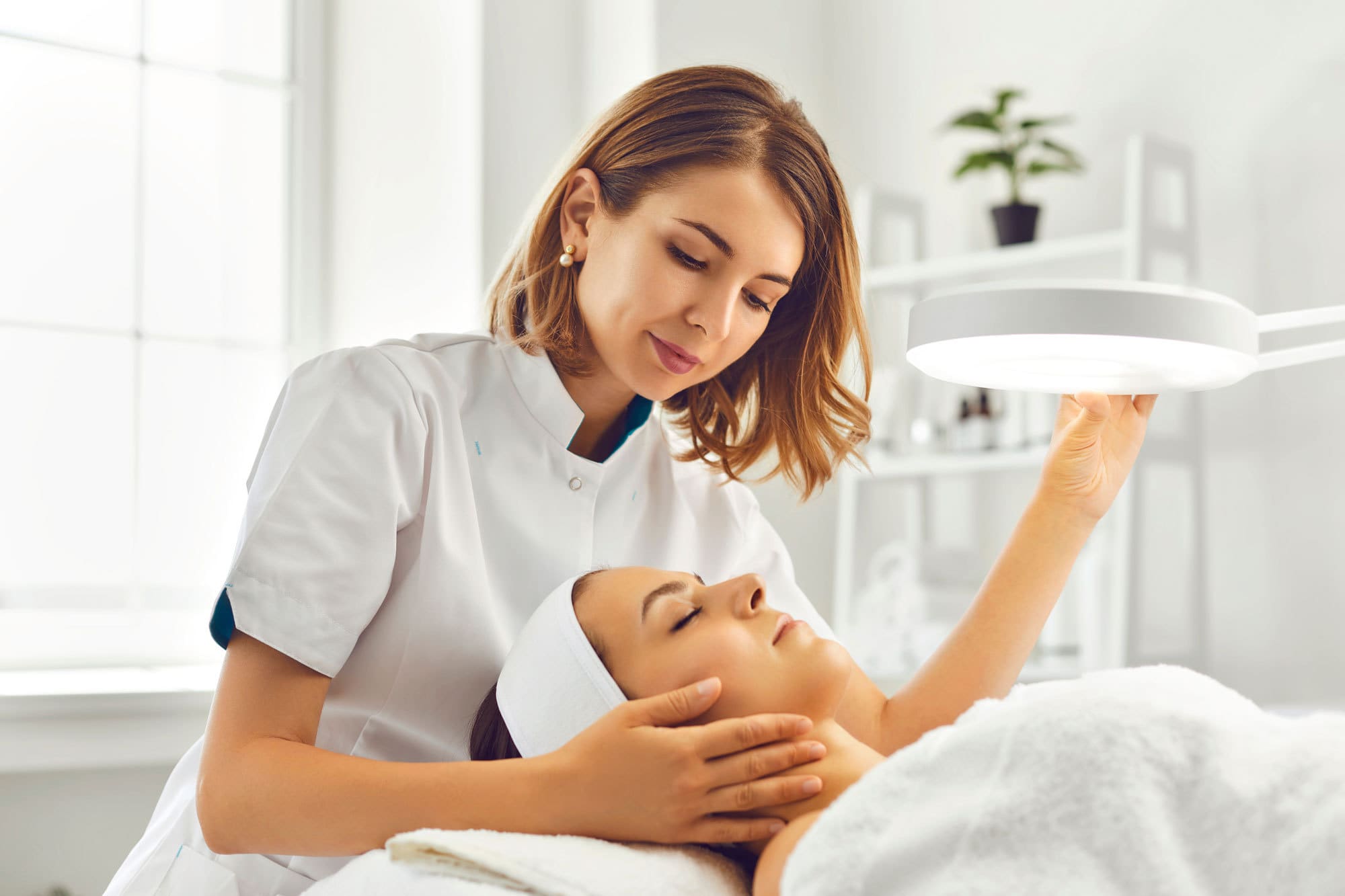 Train to become a NY Licensed Esthetician
For over 35 years Atelier Esthetique Institute of Esthetics has been dedicated to offering esthetics education and training by serving the communities of New York City and its surrounding areas. At Atelier Esthetique, students receive individualized, hands-on training from NY State licensed instructors and professionals. Our curriculum follows the New York Department of State required subjects for licensure that include health and safety training required to become a licensed esthetician in New York. Students will learn about anatomy and chemistry as it relates to skin types and skin care treatments; facials and body treatments; make-up; waxing and hair removal; business practices and retailing and much more!
What does an Esthetician do?
Estheticians, or skincare specialists, cleanse and beautify the face and body to enhance a person's appearance and feeling of well-being. Estheticians give facials, upper-body treatments, and other skin care treatments such as masks, waxing and peels. Some may also provide head and neck massages to improve the health and appearance of the skin.
Additional duties and treatments may include:
Evaluate clients' skin condition and discuss available treatments
Create daily skincare routines for clients
Recommend/sell skin care products
Teach and advise clients on how to apply makeup, and how to take care of their skin
Remove unwanted hair, using wax, lasers, or other approved treatments
Many estheticians who own and operate their own salon or spa will also have to manage all aspects of their business including employees, record keeping, inventory, advertising and fiscal responsibility.
Interested in becoming a Licensed Esthetician?
NY State Esthetician Licensing Course
Our 600-Hour NY State Esthetician Licensing course is divided into 40% theory and lecture and 60% practical skill where students will learn and practice in well-equipped classrooms and labs that will simulate the salon/spa environment. Students will learn and practice under the supervision of New York State licensed instructors who bring their own extensive real-world experience to the classroom. We offer four different schedules of training to accommodate students' various lifestyle needs.
All schedules meet the requirements of the New York State 600-Hour Esthetician course.
The school offers the Esthetics Hybrid 600-Hour course – where 40% theory subjects are taught on-line via distance education while the 60% practical skill subjects are taught in person on campus. Daily class schedules vary between on-line and on-campus and are distributed at Orientation.
600-Hour Esthetics Licensing Program Schedule Options
Full-time "Fast Track" Program – 16 weeks
Great for students who want to get their license and enter the workforce as quickly as possible.
Classes are held Monday through Friday, from 9:00 am to 5:00 pm.
Part-time Morning/Day Program – 24 weeks
This course schedule is very popular with students who have family, work, or other obligations.
Monday through Friday, from 9:00 AM to 2:00 PM
Part-time Evening Program – 32 Weeks
This schedule is ideal for students who work full-time or have other daytime obligations.
Monday through Friday, from 6:00 PM to 9:45 PM
Weekend Program – 40 weeks
This schedule is well-suited for students who prefer a more gradual-paced course or for those who cannot attend training classes during the week.
Saturday and Sunday from 9:00 am to 5:00 pm
The schedules accommodate and permit senior students who are interested in advanced courses the ability to attend in a variety of areas such as Microdermabrasion, Microcurrent Technology, Chemical Exfoliation (Peels) and more. Advanced courses help students and graduates increase their skills and qualifications to make them more marketable to potential employers and clientele.
900-Hour Master Esthetics Course
If you want to go the extra mile in your esthetician training, to provide a wide range of services to your clients, the Master Esthetics Course at Atelier Esthetique may be right for you. Students who enroll in this course will be prepared to sit for the NY State licensing exams for Esthetics after completing the 900-hour course, and upon licensure, graduates can apply to work in specialty skin care areas such as Clinical Esthetics, Paramedical, Medical, and Medi-Spa settings.
This course is only offered with a full-day schedule, fully on campus, and can be completed in 24 weeks. In addition to the course material covered in the 600-hour Esthetics course, students in the Master Esthetics Courses will also take advanced course topics in areas such as medical & lifestyle assessment, advanced facial and body treatments, assisting the physician as well as a host of popular procedures like Chemical Exfoliation, Microdermabrasion, LED light therapy and more.
Already a licensed esthetician? Check out our Advanced Training courses for licensed estheticians!
NY State Esthetician Licensing Course
I chose Atelier Esthetique because of their rating online. A past employee of mine also attended Atelier Esthetique and graduated and is currently working at a spa. The education at this school is great. Once I complete this program I hope to further my skills in the skin care industry and land my dream job and eventually work for myself and open a business.

Jahmesh Holmes
Class of 2016

Studying esthetics almost 10 years ago was the best decision of my life! I had been practicing law for 12 years, but I was very unhappy. So, I kept my job and started the part-time evening program to pursue my passion for skin care. I am currently in my 8th year of business as the owner of a top laser center in Midtown Manhattan.

Kim Schanzer
Class of 2009

I chose Atelier Esthetique because of their close relationship with European Wax Centers. I also liked that there was a two-week intensive New York State waxing license program. Someone I know who took this class at Atelier Esthetique and recommended it to me.

Lauren Harmon
Class of 2019
---
†Bureau of Labor Statistics, U.S. Department of Labor, Occupational Outlook Handbook, Skincare Specialists, on the Internet at https://www.bls.gov/ooh/personal-care-and-service/skincare-specialists.htm#tab-1 (visited July, 2022). National long-term projections and salary averages may not reflect local and/or short-term economic or job conditions and do not guarantee actual growth or any particular salary. Atelier Esthetique Institute does not guarantee employment or career advancement. Atelier Esthetique Institute cannot guarantee a student's eligibility either to take any exam or become certified, registered, or licensed.